Sports Massage - Leamington Spa
Hi I'm Claire Olorenshaw DHP - MICHT, I have been a practicing holistic therapist for over 17 years now and have enjoyed great success with many clients facing numerous different ailments both physical and emotional.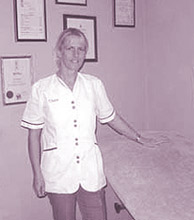 So what does holistic really mean? Simply put it means treating the body as a whole. Treating the whole person both physically and emotionally. When you come to me for a treatment I will be pulling on several different therapies so that I can effect the best treatment for you.
Merriam-Webster's Medical Dictionary
Main Entry: ho·lis·tic
Pronunciation: hO-'lis-tik
Function: adjective
1 : of or relating to holism
2 : relating to or concerned with wholes or with complete systems rather than with the analysis of, treatment of, or dissection into parts <holistic medicine attempts to treat both the mind and the body
I am a fully qualified associate of the F.H.T The Federation of Holistic Therapists

and the National Hypnopsychotherapy Council (N.H.P.C - UK )

and all of my treatments and therapies have public liability insurance.
I have a fully fitted ( and very calming ) therapy room in our comfortable family home, which is situated in the north of Leamington Spa, parking is no problem. This situation provides a friendly, low pressure environment for the treatment of sports injuries, phobias, stress, aches & pains, or even just for a relax and have some time to be spoiled.
Over the years I have successfully treated many people who have been " written off " by conventional medical methods, just because you have a bad back and your doctor has said " its your age" does not mean it cannot be treated Holistically! - Don't give up!
What is the cost of a treatment compared to having a sleepless night? Or suffering in pain needlessly? An average treatment is around £45.00 - the cost of a meal out for two? Don't suffer needlessly - call me today!
When treating you I will call upon my extensive knowledge and experience of Sports massage techniques - Deep tissue massage - Aromatherapy Massage - Indian Head Massage - Reiki -Hypnotherapy. I have used all these treatments with great success many times and have helped with all these these ailments:- Sports injuries | stress | tension | fatigue | insomnia | headaches |migraine | sinusitis | elbow/knee pain | neck pain | pins and needles |stop smoking | cut down smoking | nail biting | exam nerves | weight loss | panic attacks | motivation | self confidence | pulled muscles | phobias | fear | sleep problems | panic attacks | tingling.....and many more.
My Clients are based all over the West Midlands and frequently call from all Warwickshire towns Alcester | Alderminster | Alveston | Ardens Grafton | Armscote | Ashorne | Aston Cantlow | Atherstone | Attleborough | Austrey |Barby | Barford | Barlestone | Barton | baxterley | Bedworth | Berkswell | Bidford on Avon | Binley | Birmingham | Bishops Itchington | Brandon | Brierley Hill | Brinklow | Broom | Bubbenhall | Cantlow | Carlton | Chippenham | Churchover | Claverdon | Coleshill | Coventry | Darlingscott | Dunchurch | Edgehill | Ettington Farnborough | Forest of Arden | Frankton Gaydon | Great Wolford | Grendon | Griff Halford | Harbury | Harvington | Henley in Arden | Henley-in-Arden | Higham-on-the-Hill | Hillmorton | Hockley Heath Ilmington Kenilworth | Keresley | Kilsby | Kineton | Kingsbury Lapworth | Lea Marston | Leamington Spa | LeamingtonSpa | Leek Wootton | Long Itchington | Long Lawford | Lower Brailes | Lowsonford Market Bosworth | Monks Kirby Napton | Newbold | Newbold on Stour | Northend | Nuneaton Oxhill Pathlow | Polesworth | Preston Bagot | Princethorpe Ratley | Rowington | Rugby Shipston-on-Stour | Sibson | Snitterfield | Solihull | Southam | Stoneleigh | Stratford | Stratford-upon-Avon | Studley Tanworth-in-Arden | Temple Grafton | Thurlaston Upper Brailes Warwick | Welford on Avon | Wellesbourne | Weston | Whatcote | Whitnash | Wilmcote | Wishaw | Withybrook | Wolvey | Wootton Wawen | Wroxall
Claire is available at 1,Kelvin Road
Royal Leamington Spa,
Warwickshire
CV32 7TF