About Claire's Holistic Remedies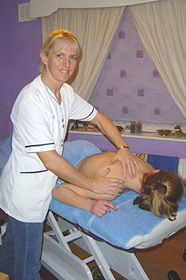 The pressures of modern life can be high and the effects of computer work, driving, meeting deadlines, mixing work and running a family home etc etc can take its toll on the body, mind and soul, and stress can take many forms, headaches, bad back, irritability, lack of sleep just to name a few. In nearly all cases a treatment with me can soothe those problems away, be it in the form of a massage or hypnotherapy.
The treatment of various problems such as smoking, weight loss, phobias, insomnia and a huge variety of other maladies using Hypnotherapy is now being recommended by the Medical profession more and more these days, rather than the usual prescription of drugs. I have had considerable success using Hypnotherapy and it is always worth a phone call to discuss your particular needs.
Working from home makes appointments easy and flexible, we appreciate that people work long hours and we are happy to take late and weekend bookings. I am always available to discuss your problem unless I am treating clients and during this time please leave a short message or speak with my husband Wayne who is happy to take calls and is able to book appointments.
Don't give up help is at hand and only a phone call away. You may well have heard it said "The power of healing is in you!" this is very true but it often requires help and guidance to bring out that power.
When treating you I will call upon my extensive knowledge and experience of Sports massage techniques - Deep tissue massage - Aromatherapy Massage - Indian Head Massage - Reiki -Hypnotherapy. I have used all these treatments with great success many times and have helped with all these these ailments:- Sports injuries | stress | tension | fatigue | insomnia | headaches |migraine | sinusitis | elbow/knee pain | neck pain | pins and needles |stop smoking | cut down smoking | nail biting | exam nerves | weight loss | panic attacks | motivation | self confidence | pulled muscles | phobias | fear | sleep problems | panic attacks | tingling.....and many more.
My Clients are based all over the West Midlands and frequently call from all Warwickshire towns Alcester | Alderminster | Alveston | Ardens Grafton | Armscote | Ashorne | Aston Cantlow | Atherstone | Attleborough | Austrey |Barby | Barford | Barlestone | Barton | baxterley | Bedworth | Berkswell | Bidford on Avon | Binley | Birmingham | Bishops Itchington | Brandon | Brierley Hill | Brinklow | Broom | Bubbenhall | Cantlow | Carlton | Chippenham | Churchover | Claverdon | Coleshill | Coventry | Darlingscott | Dunchurch | Edgehill | Ettington Farnborough | Forest of Arden | Frankton Gaydon | Great Wolford | Grendon | Griff Halford | Harbury | Harvington | Henley in Arden | Henley-in-Arden | Higham-on-the-Hill | Hillmorton | Hockley Heath Ilmington Kenilworth | Keresley | Kilsby | Kineton | Kingsbury Lapworth | Lea Marston | Leamington Spa | LeamingtonSpa | Leek Wootton | Long Itchington | Long Lawford | Lower Brailes | Lowsonford Market Bosworth | Monks Kirby Napton | Newbold | Newbold on Stour | Northend | Nuneaton Oxhill Pathlow | Polesworth | Preston Bagot | Princethorpe Ratley | Rowington | Rugby Shipston-on-Stour | Sibson | Snitterfield | Solihull | Southam | Stoneleigh | Stratford | Stratford-upon-Avon | Studley Tanworth-in-Arden | Temple Grafton | Thurlaston Upper Brailes Warwick | Welford on Avon | Wellesbourne | Weston | Whatcote | Whitnash | Wilmcote | Wishaw | Withybrook | Wolvey | Wootton Wawen | Wroxall